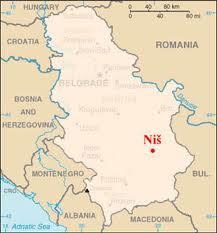 The town of Nis (Niš, pronounced Niche) with its population of over 300,000 people is the University center of the South Serbia. South Serbia is the region with the lowest average salaries, broken industry (including EI Nis electronics which was the symbol of my town 20 years ago), it is often forgotten by government centered around Belgrade, etc. etc (there are numerous places in Serbian language containing more detailed ramblings (complaints mostly) on the current state in the region).
Being an optimist I tend to think that this hard economical situation has positively influenced the development of IT sector. There are numerous IT companies in Nis which are outsourcing partners of US and European companies (for example Accordia, Seavus, Youngculture). There are also companies that have their own products such as MotionDSP's video enhancment products or Atomia's server and hosting automation platform (they were also one of the Gold Sponsors of 2011 HostingCon). Please note that the above mentioned companies do not necessarily originate nor are completely located in Nis but have significant development resources located there. Also there are many freelancers including Genius-Tech, Disample, or individuals like me 🙂 who work from home. I've noticed that on elance.com freelancers from Nis are the majority of Serbian freelancers. For a more thorough list of IT companies in Nis take a look at the table below. The given list is unofficial and probably incomplete but helps in getting the overall picture. I'll update the list with new info from time to time.
Unofficial list of Nis IT Companies

| Id | Link | ~No of Emp | Technologies, Comments |
| --- | --- | --- | --- |
| 1 | http://www.horisen.com | 17 | PHP, Java, Mobile Services |
| 2 | http://enjoying.rs | 20 | Java EE, Spring, Hibernate, Hybris |
| 3 | http://www.smdesign.rs | 5 | PHP, Design, custom CMS |
| 4 | http://www.seavus.com | 58 | .Net, Java, C++ |
| 5 | http://www.ilumnis.com | 10 | MSSQL, C#.Net, iOS |
| 6 | http://www.irvas.rs | 10 | Java EE, C#, Elearning |
| 7 | http://www.morenaict.com | 5 | C#, .Net |
| 8 | http://www.troxo.com | 10 | PHP, C#, .Net |
| 9 | http://www.logik.rs | 10 | ERP, Information systems, .Net |
| 10 | http://www.lmb.de/ | 5* | .Net, Hardwar |
| 11 | Cim group** | 10** | .Net |
| 12 | Atomia | 20 | Automation software for hosting companies |
| 13 | ING software | 7 | .Net, ASP, web development |
| 14 | http://www.genius-tech.com | 3+ | .Net, Web development, PHP, Zend |
| 15 | www.digit.rs | 15 | Java, Oracle |
| 16 | Eurogenyx | 3 | Electronics, .Net |
| 17 | Simplicity | 5 | Web development, PHP |
| 18 | Alfatec | 15 | R&D, Python, .Net, Electronics |
| 19 | PSC Mobile Solutions | 3 | .Net |
| 20 | Ates Nearsourcing | 12 | Web design & developement (PHP – Symfony framework + .NET), Mobile (iPhone, Android) |
| 21 | Niri | 19 | SWD – Java, Spring, Hibernate & Data Science/Machine Learning, Python |
| 22 | http://www.autview.com | 10 | Java EE, Spring, Hibernate |
| 23 | Accordia Group LLC | 50 | .Net, Java, Delphi, Data mining, SVG, Flex |
| 24 | http://www.powersoft.co.rs | n.a. | Information systems |
| 25 | http://www.mihajlovicsoft.rs | n.a. | Information systems |
| 26 | http://www.motiondsp.com | 15 | C++, .Net, Video enhancement tools |
| 27 | Disample DCC | n.a. | Web design |
| 28 | Adriatiko (Inter Casa Ambienta doo) | 5 | PHP, Web design and development |
| 29 | http://www.fazi.rs | ~7* | C, C++, Electronics (Casino games, Led displays) |
| 30 | Younify | 10 | Magento, PHP |
| 31 | MobileWasp | ~3 | Android, iPhone |
| 32 | http://www.codespeed.rs | 3 | Php, Zend, Web development |
| 33 | http://www.webelinx.com | 20 | iPhone, Web design |
| 34 | Smart net | 13 | .Net, mobile, js (more info at http://www.smartnet.rs/technologies) |
| 35 | Dualsoft | n.a. | Information systems for betting support |
| 36 | Energosoft | 5 | Oracle, Java ADF, SAP |
| 37 | Diyomi | n.a. | .NET, PHP, J2ME, Flash/Flex |
| 38 | Kraftwerk GmbH | 12 | Android, iPhone |
| 39 | www.etondigital.com | 15 | Web design & development, mobile |
| 40 | Megatrend | 10 | Information systems |
| 41 | FutureForward | 3 | php, flash, flex |
| 42 | StangaOne1 | 20 | c#,php, mobile(ios,android), FED, QA, opened in june 2012 |
| 43 | DMV | n.a. | .net, electronics |
| 44 | Tehnopetrol | n.a. | Delphi |
| 45 | Mainframe2 now Fra.me | 9 | HTML5, Rails, C++, .net, python, nodejs (startup) |
| 46 | http://www.joombooz.com/ | n.a | PHP, custom CMS |
| 47 | DOCS Logistics | 6 | .Net |
| 48 | http://nissatech.rs | n.a | Embedded systems, HW |
| 49 | http://peaksel.com | 17 | Mobile apps (iPhone, Android) |
| 50 | http://netico-group.com/ | n.a. | Embedded systems, SCADA |
| 51 | http://www.htec.rs | 20 | PHP, Android, iOS |
| 52 | Zlatna buba | 11 | .Net |
| 53 | Aster Media Net | n.a. | Web and mobile development |
| 54 | App Module | 10 | iOS, Android, PHP i Java Web |
| 55 | Shindiri studio | 15 | WordPress and themes (good rank on ThemeForest) |
| 56 | Edev | 5 | Web and mobile development |
| 57 | IT Centar | 4 | Web and mobile development. Smart TV apps. |
| 58 | Code control | 3 | Web design and development |
| 59 | Neopix | 10 | Web design and development*** |
| 60 | Transactor Technologies Limited | 15 | Oracle, Java, C#, Android, Web Design*** |
| 61 | BankSoft | ~7 | Banking software |
| 62 | WhiteCircle | 4 | Web development |
| 63 | EXLRT | ~5 | SDL Tridion, Sitecore, ADAM, Kentico, Java/.Net |
| 64 | Prime | 20 | PHP, .Net, Java |
| 65 | Badinsoft | 50 | Java, Javascript (Angular, React i Vue), PHP (Zend, Magento, WP), Oracle, MySQL, NoSQL |
| 66 | https://badsistems.com/home | 15 | Web/Mobile |
| 67 | https://faxi.co.uk/ | 20 | Outsourcing (has office in Nis) |
| 68 | http://www.syncitgroup.com/ | 10 | Outsourcing (Web/Magento) |
| 69 | http://www.tico.rs/ | 5 | Web/Mobile |
*No of employees in software department
**it is recognized among developers as the worst IT company in the region
***part of the team is in Nis
Please note: This table should be observed from a developers point of view -> potential employment opportunities. Therefore the employee numbers given represent the number of developers that work in Nis even though company could be located elsewhere. It is the same for technology column.
Update: I have updated employee numbers for Seavus, Horisen, Youngculture, SmartNet (Thanks for corrections)
Update 2: Added dualsoft and corrected info about youngculture having office in Novi Sad
Update 3: Updated employee number for Seavus from 25 to 58. Apparently the information I had before was too old.
Update 4: Added Energosoft and updated employee number for ING Software from 5 to 7
Update 5: Corrected info about logik
Update 6: Added Kraftwerk, Diyomi, EtonDigital, Megalink
Update 7: Added FutureForward, corrected info on Megalink (megatrend actually)
Update 8 (June 25, 2012): Changed the number of employees for younify. Added StangaOne1.
Update 9 (July 16, 2012): Updated info for Ates nearsourcing (number of employees, technologies)
Update 10 (February 26, 2013): Added 3 new companies: DMV, Tehnopetrol as advised by Miljan and a new startup in Nis – Mainframe2. Corrected salary info (upper limit and percentage below 1000e).
The information about salaries is not given for obvious reasons, but for Nis they are within range 500e – 2400e net (for gross value add 40% to that number). Approximately 70% of developers have less than 1500e.
For more details about any of the above mentioned company you can check with provided links or you can contact me (email: sfsgagi attt gmail dottt com or on twitter @draganstankovic) and I would be very glad to help in making contact for you or to direct you in the proper way.
It's good to be a developer in Nis 🙂