Until I started to travel on a regular basis I haven't been aware of the value and information that can be found audio podcasts for developers. I thought, "Come on, what can you learn from listening to a radio?".
Nevertheless, since I had to fulfill my time with something other than staring at empty space (I travel by night) I tried listening to some podcasts and since then I haven't stopped to follow the ones that I liked the most.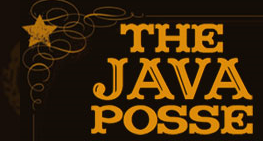 In my opinion (being a Java developer most of the time), Java posse is the best podcast around. The guys behind it are very amusing, have different characters (opinions), and often make a roundups on hot topics where they include more people in discussions. For example, episode #337 they made together with guys from .net rocks which is I guess the best podcast for .net developers.
Apart from Java posse I like listening to grails podcast although they are not as regular with new stuff as Java posse is.
In near future I plan to check some python or ruby podcasts and compare their awesomeness to Java posse.
Try listening to any podcast for developers and you won't regret. The feeling you'll probably have is like you have found yourself a good developer friend who is willing to share his personal insights and programming knowledge with you. At least that is how it was in my case.